NEW DELHI, Aug 15, 1998 : Asserting that India would not deviate from its pre-determined path of global disarmament, Prime Minister A.B. Vajpayee today indicated that the country would not sign the Comprehensive Test Ban Treaty in its present form.
Addressing the nation from the ramparts of the historic Red Fort on the occasion of the 52nd Independence Day, Mr Vajpayee stated that the use of nuclear weapons was not meant for aggression but for a nuclear-free world and therefore had announced a unilateral moratorium on further nuclear tests. "Our tests of May 11 and 13 were not meant for any war," he maintained.
On declaring that India is ready for negotiation on 'No-first-use' of nuclear weapons, he clarified that the stand was not under pressure or fear. "It is because we believe in world peace," he said.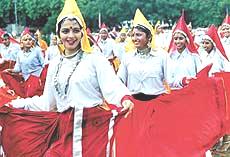 Believing that all disputes could be resolved through dialogue, the Prime Minister announced that India was ready to hold talks with Pakistan on any issue, at any time, at any level and anywhere in the world. He regretted the failure of talks with his Pakistani counterpart Mr Nawaz Sharif on the sidelines of the SAARC summit in Colombo. Mr Vajpayee, however, said that he looked forward to meeting Mr Sharif in Durban, South Africa, during the Non-aligned Summit.
Mr Vajpayee, without naming Pakistan, warned that his government will not leave any stone unturned to root out terrorism supported and abetted by elements from across the border. "We will fight terrorism with all our might," he said while assuring the people that incidents such as the recent massacre in Chamba in Himachal Pradesh and killings in Doda in Jammu and Kashmir would not recur in future.
The ceremony was attended by former Prime Ministers V.P. Singh, Chandra Shekhar, P.V. Narasimha Rao, H.D. Deve Gowda and I.K. Gujral, the Prime Minister's Cabinet colleagues besides Congress president Sonia Gandhi. Members of the diplomatic corps were among the large gathering of dignitaries present on the occasion.
The Prime Minister said following the nuclear tests in Pokhran, several countries criticised India's decision and some even imposed sanctions. But the situation has changed. They are doing a rethink which is evident from the gradual slackness in the effect of sanctions, he said. He further said his Government is only trying to build on the foundation of the nuclear weapons programme laid by Mrs Indira Gandhi.
Highlights of PM's address
Tribute to democracy — a commoner can rise to the highest office in the land.
We rededicate ourselves to defend hard-won freedom.
Salute to brave defence forces. Defence forces to be modernised.
Slogan of Jai Jawan, Jai Kisan, Jai Vigyan — goal of all round progress.
Pokhran test symbol of national resurgence and resilience.
Culmination of effort of long years — fruit of hard work of scientists and defence forces.
Acclaimed by Indians all over the globe.
Nation grateful to its scientists and others.
India committed to world peace, disarmament and a nuclear-free world.
India for better relations with all neighbours and for peaceful resolution of problems through dialogue.
Ready for talks with Pakistan, covering all aspects of Indo-Pak relations.
Better appreciation for India's stand on nuclear-free world, sanctions gradually being relaxed.
Country remains committed to freedom, democracy, secularism.
Electoral reforms to be brought about.
Participation of minorities in all national endeavours to be ensured.
Agriculture
Crop insurance yojana to be made more broad-based. New crops to be included and more area to be covered.
A high-powered commission on farmers' problems to study their economic conditions and to suggest reforms.
Planning Commission to double employment guarantee amount for Bolangir-Kalahandi-Koraput area.
Economy
India to continue on the path of economic reforms with the aim of becoming an economic super power. Swadeshi does not mean economic isolation.
Speedy implementation of projects in infrastructure sector.
NRIs exhorted to avail of resurgent India bonds.
Centre and states jointly to fight price rise. Appeal to business and industry to cooperate. Strong measures against hoarders and black marketeers.
Government committed to fight the menace of corruption.
Lok Pal Bill introduced. The Bill includes the office of the Prime Minister.
Efforts of corruption cell in PMO to be intensified.
One crore new jobs every year to fight unemployment. Task force to study the problem.
Social infrastructure
Promise of 33 per cent reservation to women in Parliament and state legislatures reiterated.
Free books to girls up to primary school-level. Rs 550 crore to be set apart for this.
Two insurance schemes — Raj Rajeshwari and Bhagyashree for women and for girls, respectively to be launched from Divali this year on a national scale.
Implementation of reservation in jobs for Scheduled Castes and Scheduled Tribes and other backward classes to be monitored and to be speeded up. Administration to be made responsive to this.
'Rashtriya punarnirman vahini' consisting of youth (18-35 years) to be launched on Swami Vivekanand's birth anniversary — youth to be involved in social services in rural areas.
India to be made super power in information technology.
Swarn Jayanti Vidya Vikas Antariksh Upgrah Yojana for greater involvement of youth in information technology to be launched. Insat 3-B to be launched from ISRO before Aug 15, 1999 in a record time of 12 months.
Six transponders on this satellite to be used for computer based education programme.
Consensus approach
National water policy to be evolved taking everyone along.
Consensus approach to solve national problems.
---